No Commitment Memberships
We fit your lifestyle, not the other way around.
100% Money Back Guarantee!
You love it, or your money back.
HUGE Private Parking Lot!
Never worry about where you will park.
---
What We Do
Convenience is so important in everyday life. We provide a safe, quality environment for you and your whole family. Let us help you achieve your fitness goals, right in your neighborhood. With new state of the art Life Fitness equipment, we provide a variety of strength machines, free weights, cardio machines and Hammer Strength. Maximize your workout with cross training equipment, battle ropes, tires, TRX, plyo-boxes, and so much more!
Along with a beautiful facility we offer Personal Training & Group Training Classes to take your workout programs to the next level. Our Personal Training Programs depend on frequency & length of sessions. We offer 30 and 60 minute sessions. We can start as little as 1 session per month with no limit. Typically our clients will do 2, 3, or 4 days per week of Personal Training.
Our Group Training Classes include a variety of workout programs. They are an awesome balance between traditional classes and 1-on-1 personal training. They help stay motivated and give a structure so you know what to do when you come to the facility. You will receive a similar experience of personal training, but in a group setting. Varies by location.
Unique coaching programs get you access to our Fitness Professionals. We will develop a custom workout program and coach you on the exercises. This is a great option if you do not need the 1-on-1 training program every workout, but need a plan to execute. We meet at least once a month, work through your challenges, and provide you with a solution that fits your schedule so you can go at it!
Our supervised kids club makes it possible for parents to fit their workout plan in their schedule. Our kid's room is staffed with excellent supervisors to give your children a clean, safe, and fun environment while you can get workout. Our kids club is open 6 days per week. Monday-Friday 8:45am-1pm & 4pm-8pm and Saturday 9am-1pm.
Nutrition Coaching makes it easy to make the right choices when it comes to your lifestyle choices. Education on proper eating habits and awareness of current behaviors will go a long way. Understand what you are eating now and learn what food is ideal to consume to help you reach your goals.
Level 4 tanning bed. Get some UV rays and get a beautiful tan!
THE TEAM AT FITNESS 19
---
Certifications:
– CPR/AED
Interests:
– Working Out
– Hiking
– Gritty
– Philadelphia Eagles. GO BIRDS!
"The best view comes after the hardest climb."
---
---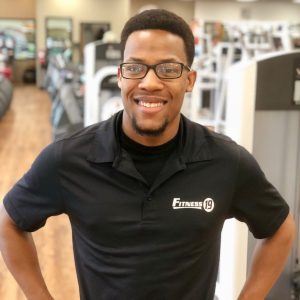 I love helping others workout!
---
Born with an unbreakable desire to help people reach their full potential. I pursued a degree in mental health.In 2014 I acquired my Bachelor's in Psychology from Lock Haven University of Pennsylvania which provided me with the experience and education I needed. I began helping inner city kids with Behavioral Health issues. I did not want to stop there, I wanted to help more people change their lives using my knowledge and experience of fitness, nutrition and exercising. We will to take action NOW and EMBRACE the exceptional changes in order to obtain optimal health. Rome wasn't built overnight. We need to start today. Hit The Power Button.
---
I started my personal training carrier in 2011. Training in home and on my own specializing in strength training and weight loss has given me the opportunity to work with all types of clients, age and fitness level wise.
"The first step to change is commitment."
"Push to the limit and reach new heights."
"Strength training starts in the mind, if you believe you are strong, you will be strong."
---
My interest in fitness began during my childhood. I was involved in competitive sports for most of my life. Being a wrestler helped educate me on healthy dieting habits for maintaining weight and losing body fat. As an avid lifter I specialize in strength and conditioning, flexibility, and stability.I have a strong passion to share my knowledge with my peers and I am very excited to meet new clients. The true reward is to see the positive impact I make in their lives. There is no better feeling than seeing my clients progress and feel more confident about the way they look.
---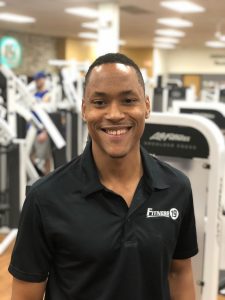 Certifications: 
– ACE certified personal trainer 
– ACE certified health coach 
Interests:
– Basketball 
– Cooking
– Reading
"The first wealth is health" Ralph Waldo Emerson 
---
---
We have the cleanest facilities and most affordable memberships for the community. Come in and workout at one of our premier fitness centers in Secane, PA.
Powered by Top Rated Local®